This is my second time posting, so many of you probably already have me added :)
Name
Ashley
Age
Nineteen
Location
West Bloomfield, MI, USA
How long have you been playing Sims?
I began with The Sims 1 back in early 2000/2001 or so. I've been playing ever since. I bought
every
EP for TS1 shortly after each came out, and seeing "complete collections" being sold for ten dollars irks me quite a tad. I played TS1 well past when TS2 came out. I didn't get TS2 until after Nightlife came out.
What EPs/SPs do you have?
I have all the EPs for TS1, all the EPs for TS2, and no stuff packs. They seem like a waste of $20.
Do you use custom content? If so, what sites do you use?
I do. I use everyone's custom content, and my favourites are in my userinfo.
Do you do legacies or challenges?
I'm currently working on the
winterslegacy
, and I'm posting my story for the Asylum Challenge at this journal now.
What families are you playing right now, and why?
Just the Winters, mostly.
Do you play any in-game houses, such as the Goths or Brokes?
Nope.
What are your favourite aspects of the game?
Breeding, of course. I love watching the genetics in the game. I also like creating the houses a bit. It's frustrating though, sometimes, since I like to make realistic houses. The Sims would much rather have four toilets by the front door, and no walls for any of the other rooms.
Pictures of your families/houses, if applicable.
All the pictures I currently have uploaded are on my journal,
but here are a few: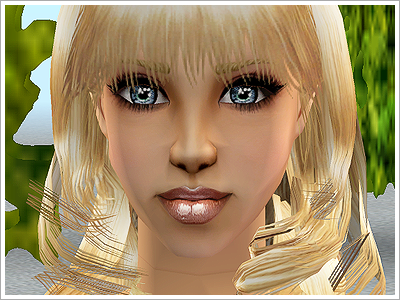 Yvette from the
Asylum Challenge
.
Ami & Angeline from
a random photo shoot
.
Riley, from the
winterslegacy
.
And anything else you'd like to include about yourself:
I like pretty much any type of story/legacy post. I even
look over
don't mind the quality of graphics. All I look for is someone with decent typing skills. I like correct grammar, spelling, punctuation, etc., but it does not have to be perfect. It just has to look like you tried :)
So, feel free to
add me
, and I'll add you back :)